Rejuvenate Your Skin with Fractional Resurfacing
---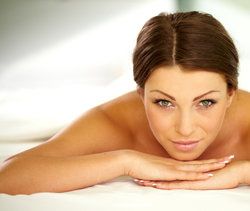 At The Lifestyle Center, we are always looking for new technology to provide patients with better results, minimal discomfort and decreased downtime. Our fractional resurfacing skin treatments have always provided outstanding results, and now, our new Fractora™ system elevates the effects to a whole new level. With Fractora™ fractional resurfacing, our patients in the St Louis area are seeing noticeably tightened skin, improved tone and texture, and a significant reduction in wrinkles - all with remarkably little discomfort and fast healing.
Find out more about exciting new Fractora™ fractional resurfacing skin treatments. Contact The Lifestyle Center today to schedule your free consultation.
Our Innovative Fractional Resurfacing Methods
Fractional resurfacing is a popular method for skin rejuvenation. It is known to effectively reduce deep wrinkles, acne scars, dilated blood vessels, discoloration caused by age spots, and other blemishes that undermine the overall appearance of your skin. Traditional fractional resurfacing treatment is performed with lasers, and though effective, it often is accompanied by discomfort and and extended recovery times that can last weeks.
Here at the Lifestyle Center, we perform innovate fractional resurfacing treatments with reduced pain and healing times. Our Matrix RF procedure uses radio frequency waves, while our Fractora™ treatment uses biopolar radiofrequency technology to achieve the rejuvenating results you deserve. Matrix RF is more easily tolerated than Fractora™ and offers optimal results for all patients. Fractora™ is a more aggressive anti aging treatment, and is generally not recommended for patients with darker complexions.
What is Fractora™?
Fractora™ penetrates deeply into your skin to lift and tighten underlying tissue while smoothing out the surface of your skin. Its exceptional results can far exceed those offered with traditional fractional resurfacing. In fact, patients can enjoy results similar to those obtained through the highly regarded and expensive Ultherapy, but at only a fraction of the cost.
Because Fractora™ can supply radiofrequency energy to varying depths of the skin, it has a wide range of applications. It is most often used on the face, eyelids, mouth and neck, but it can also be used to treat the chest area where sun spots and other signs of aging frequently develop.
What is the Fractora™ Treatment Process?
As you begin your Fractora™ treatment, a topical anesthetic will be applied to your target areas. Next, a number of pin electrodes will be applied to produce small micro-lesions in the skin. Finally, the radiofrequency energy delivers a gentle heat into the sub-dermal tissue region. The micro-lesions are precisely scattered to achieve maximum benefit and allow the skin to heal quickly. As the skin heals, it naturally contracts, leading to a rejuvenated appearance.
Some patients undergo 3-4 fractional resurfacing sessions to achieve the most dramatic results, while others choose just one or two treatments. For patients with acne scarring, 4-6 treatments might be required to smooth out the surface of the skin. Most patients notice an improvement in the appearance and feel of their skin after only one Fractora™ treatment. Patients can enjoy skin that is tighter, softer, and has less scaring.
Book Your Consultation Today
If you are interested in achieving more youthful-looking skin, contact us today to learn about our fractional resurfacing and other skin treatments. We can schedule a free consultation so you can begin your journey to more beautiful skin.