The Priapus Shot&reg Can Increase Penis Size and Enhance Sensation
---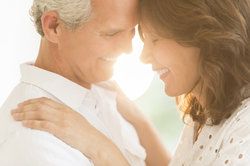 The Priapus Shot® is an innovative treatment performed at The Edge for Men that harnesses the body's natural healing ability in the form of platelet-rich plasma (PRP) to help men achieve a larger penis and enhanced sexual sensation. The Priapus Shot® is designed to deliver lasting improvements for erectile dysfunction and in sexual performance for men. It is effective for men who have lost function due to an enlarged prostate, prostate cancer, Peyronie's Disease, the after-effects of surgery, drug side effects and other conditions, including diabetes. If you are looking for a convenient and non-surgical method to boost the quality of your sex life, the Priapus Shot® may be your solution. Dr. Richard Moore can perform a Priapus Shot® at his St. Louis to provide effective and immediate results. Contact us today to schedule your consultation and find out how one Priapus Shot® session can take your sex life to all-new heights.
The Priapus Shot® Procedure
Your Priapus Shot® session will begin with blood being drawn from your arm. Using a centrifuge, your doctor will process the blood to isolate your platelets to create PRP. PRP has a high concentration of natural growth factors, which allow your body to generate new tissue, including nerves, blood vessels, and skin. PRP therapy has been used in many applications, including sports medicine, to expedite healing. As you wait about 10 minutes for the blood to be processed, you will self-apply an anesthetic cream to the treatment area. After you are comfortable and the PRP is ready, it is injected into the penis with a very fine needle. The ultra-thin needle, combined with the numbing cream, mean that patients can expect to feel little to no discomfort. Additionally, there are practically no risks of complications or side effects with PRP therapy since this is an autologous treatment that uses compounds from the patient's own body. PRP injections have been performed on various parts of the body nearly a half a million times over the last twenty years without reported incidence of significant side effects or complications.
Immediate and Long-lasting Outcomes
Patients often report that they immediately notice improvements. By the seventh week following treatment, patients can expect to enjoy the fullest benefits of the Priapus Shot®, which can include:
Increased circulation for an overall healthier organ
Enhanced effects of other therapies, such as Viagra® or Cialis®
Improved sensation
Increased penis length and girth
These results can last up to two years, although some patients may wish to return as soon as three months after treatment for more pronounced results. During a consultation, you and Dr. Moore can determine a treatment plan that meets your goals.
Am I a Candidate?
Generally, men in good health who want to improve their sexual wellbeing are good candidates for the Priapus Shot®. Many men choose this therapy when they consider all of its advantages:
An all-natural treatment that uses your body's natural ability to rejuvenate tissue
No side effects common to other sexual wellness treatments, such as lumpiness, nodules, necrotic tissue, or allergic reactions
A simple, convenient, and virtually pain-free procedure
A safe therapy administered by a doctor using FDA-approved technology
Schedule Your Appointment Today
The advantages and positive outcomes of the Priapus Shot® can be life-changing. Find out for yourself why more men are turning to the Priapus Shot®. Contact our office and schedule your appointment.